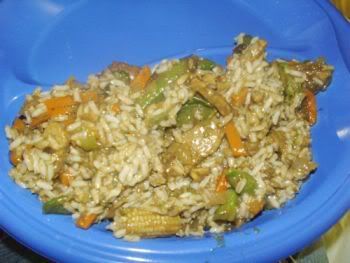 Beef Stir-Fry and Rice
* 2 lbs. boneless beef eye of round steak; cut into strips
* 1/2 lb. of Guidry's Creole Seasoning (yellow onions, bell pepper, celery, green onions,
parsley and garlic)
* 24 oz. (2 - 12 oz. bags) Birdseye Asian Medley Steamfresh Vegetables
* 4 tbsp. cornstartch
* 4 tbsp. soy sauce
* 3 bags Success 10-minute Boil in bags rice
1. Heat large skillet over medium-high heat. Brown steak until almost done. Add Creole seasoning and vegetables. Cook until meat is done and vegetables are tender.
2. Mix cornstarch and soy sauce. Pour over stir-fry.
3. Cook rice according to package. Drain. Add to stir-fry.